Harris Poll Review & Sign Up Link
Overview of Harris Poll Online Survey Panel:
Ages: 18+ males and females
Countries: US, and Canada
Minimum Payout: $10
Rewards Offered: Cash via PayPal, Amazon, iTunes and Walmart gift cards
Referral program: No
Should You Join Harris Poll Online? If you are looking for highest paying survey sites, you must join Harris poll online.
Harris Poll Online Sign up link: Click here to Sign Up for Harris Poll Online Survey Panel. Don't forget to confirm your email id.
Who is Harris Poll Online?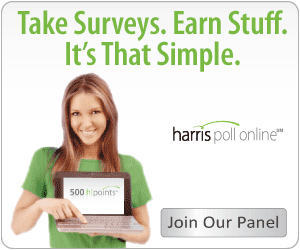 The Harris Poll Online is the pioneer in using the internet to conduct market research. The Harris Poll has surveyed millions of people in the last 40 years from 89 countries.
The online program produces accurate information at lightning speed. Since their beginning Harris has built a reputation that they know is one of their most important assets.
Harris Poll Online is now part of Nielsen Surveys (source).
Is Harris Poll Online a legitimate paid survey site or scam?
Harris Poll Online is a legitimate market research company, currently working with 74 of the fortune 100 companies. They help businesses around the world to conduct market research on many different topics including Movies, Automobiles, Restaurants, Current events, consumer products, and many other topics. Harris Poll Online is now part of Nielsen surveys.
Harris Poll Online Survey Opportunities
The company offers it's members multiple ways to participate in it's market research studies and some of them are as mentioned below:
Online Surveys – These are regular surveys that you can participate and earn rewards.
Focus Groups – These are in person discussion group consisting of 4-8 person with a moderator. You will be asked to discuss about a product or service in details and the discussion points will be captured by the representative from the Harris Poll. The discussion lasts around 45 minutes to one hour and pays more than the regular surveys – usually these paid focus groups pay $50 – $100 per hour.
Product Testing Opportunities – From time to time members are asked to participate in in-home paid product testing opportunities where you will receive a free sample or product. You will be asked to test the product and document your experience.
Harris Poll Rewards
The Harris Poll Online surveys offer a unique format. It is different than most of the competitors. It has proven to be one of the best paying survey sites. They offer an appreciation program where the participant can redeem points for rewards. The rewards include a wide variety of merchandise as well as gift certificates and PayPal. These are referred to as HIpoints.
They also offer participation in a sweepstakes for cash prices. The HIpoints account is created following the completion of the first survey. The organization offers 100 HIpoints after the participant has completed their third survey. According to participants each survey completed is rewarded with about 50 points. The surveys generally take about ten minutes to complete. Most panelists speak favorably about the surveys.
Surveys cover everything from the opportunity to influence important government decision makers as well as non-profit organizations and corporations. There is considerable emphasis placed on allowing the members to help shape policies, products and services the company offers. All participants in the Harris Poll Online are assured of complete confidentiality. The online program has been in operation since March, 2003. Harris Poll Online boasts a membership base of more than six million panelists.
The Harris Poll Online is open to most anyone who wishes to participate although the actual participants are selected randomly when the need arises for specific projects. They also welcome international panelists.
The company is one of the survey sites that is usually on the list of top 10 survey sites. This, in part, might have something to do with their name recognition. The company, headquartered in Rochester, New York, also conducts international market research through wholly owned subsidiaries via London-based HI Europe and Tokyo-based Harris Interactive Japan. In total they have opinion surveys and other polls in 89 countries around the world.
Requirements for registering with Harris Poll Online
Harris Poll Online survey panel is currently available for US and Canada residents. In order to become a member of Harris Poll Online, you must be 13+ year old male or female. It is 10% free to join.
Harris Poll Online Survey invitations
After becoming a member, you will start to receive survey invitations in your inbox. Whether you choose to participate in each survey or not, is totally up to you. Harris Poll Online usually send 2-3 survey invites per week.
Get Points Even if Disqualify
Harris Poll Online values your time and pays 15 HL points even if disqualify for a survey.
How long does it take to complete a survey?
On average, a normal paid survey from Harris Poll Online takes about 15-20 minutes to complete. Although, sometime you will be invited to take part in online paid focus group surveys that can take up to an hour or so to complete and rewards is good.
Minimum threshold for cash out
When you have 1250 points in your account, you can redeem them for PayPal cash, Amazon gift certificates and iTunes gift certificates. 1250 points are equivalent to $10.
Harris Poll Online Privacy Policy
Harris poll has a clear and well defined privacy policy and respects the privacy of it's members. You can read more about their privacy policy here.
Click Here to Join Harris Poll Online USA and Get Paid for Your Opinions | Click here to Join Harris Poll Online Canada Panel
Related articles:
Are you an existing member of this survey panel? Please share your view about Harris poll and let's others benefit from your experience.